Highlands LaSalle is another success for developer Quorum
// }else{ ?> //} ?>
Strategically situated within 15 minutes from downtown, a two-minute walk to the LaSalle train station, the Lachine Marina, and the Lachine canal and its bike path. The Highlands district of LaSalle is where nature and water provide a tranquil and enchanting environment.
"We have eight projects on the island of Montreal right now, and they're all doing very well. We are the developer and builder – so we have a built-in cost advantage. Also, our philosophy is to give purchaser terrific value with prices that are $50,000 to $100,000 below similar projects. We are able to sell quickly, build and then deliver homes to our customers in a time period of months and not years." I'm speaking with Maxime Laporte, Director of Sales & Marketing for Quorum Construction.
The immediate topic is about Highlands, the company's newest development in LaSalle. The concept of a mixture of townhouses, low-rise condos and stacked townhouses (duplexes) is clearly popular, based on the rapid sales. "On our opening day, we had 300 visitors and made forty sales on the first day. We had a similar accomplishment at our William project, where we sold 65% of our condos on the first day. We do our market research carefully. We insist on solid quality and very competitive prices."
Highlands has several key advantages – the first one being location. "It's already in a residential neighbourhood, with a commuter train corner a few minutes from our community. It's just eight minutes to downtown. Whether you're working or retired – you have easy access to central Montreal." The Lachine Canal bike paths are minutes away, as are the cozy independent restaurants of Old Lachine. There are two soccer pitches nearby, plus tennis courts and existing parks.
The mix of residential properties is attracting a healthy neighbourhood of families, retired couples, first-time buyers and single people. Townhouses come with three to six bedrooms and start at $368,900 (prices may vary). Duplexes feature three-bedroom lower and four bedroom upper units, with some being on two floors; with prices starting at $644,900 – a competitive price for a brand new revenue property. Condos have one to four bedrooms, and go from $179,900 up to $352,900.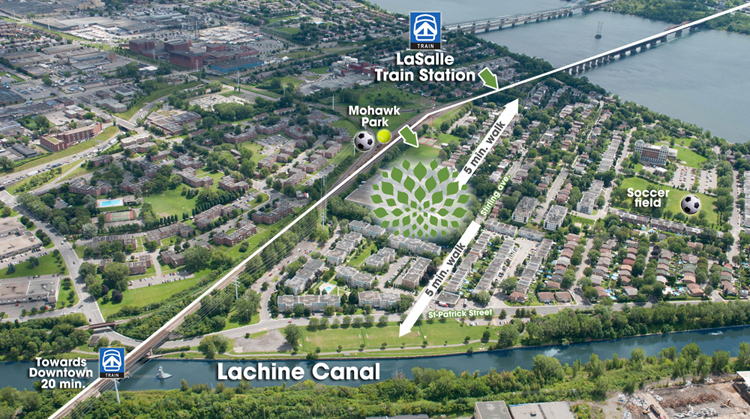 Condo owners have access to gardens, a feature that has proven to be very popular in other Quorum developments. "We discovered that people made new friends while tending their gardens – and a sense of community developed very quickly."
"The different prices and house types have ensured that we have a wide range of age groups who will make Highlands their home. We have a few intergenerational families who have purchased, so that a retired couple can be on the same street as their children and grandchildren, each part of the family with a home that suits their budget."
There is an information office for Highlands located at the Carrefour Angrignon.
Tel.:514-927-6062.
The Highlands sales office is located at 161 Stirling in LaSalle,
open Monday – Wednesday from noon to 7pm;
Saturday and Sunday noon to 5pm and closed on Thursday and Friday.
Tel.:514-927-6062.
www.highlandslasalle.com